Auckland

Guitar Lessons | Aural Lessons, Ensemble Coaching, Song Writing Workshops, Theory Lessons, Composition Lessons, Jazz Improvisation Lessons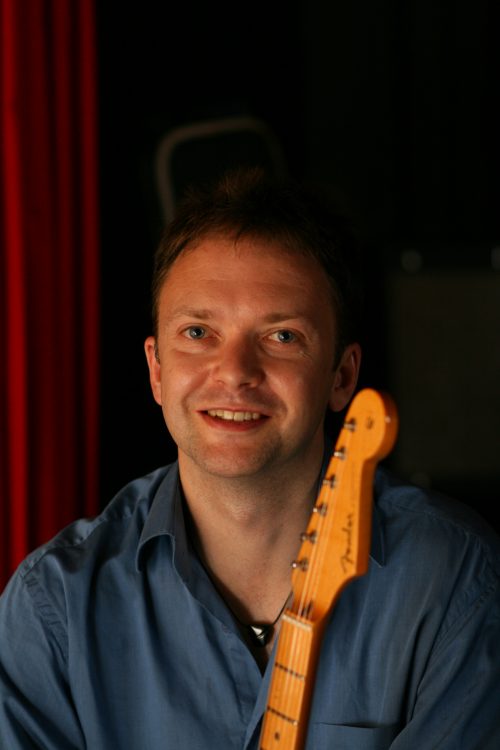 Styles: Rock, pop, funk, jazz, blues, acoustic, slide guitar etc
Suitability: All ages and levels
Bio
Auckland Guitar School is Auckland's only specialist school of modern guitar playing.
The School teaches students from all over Auckland at its two locations in Takapuna (North Shore) and Howick (East Auckland).
The School was set up and is run by Dylan Kay, who has over 20 years professional guitar teaching experience, including many years at the Guitar Institute in London. His experience includes teaching many hundreds of students, teaching guitar at a number of high profile schools and writing for Guitarist and NZ Musician magazines.
Educated at Berklee College of Music, the Guitar Institute and Oxford University, Dylan studied with some of the world's finest guitar educators. He has performed extensively in the US and throughout the UK leading his own bands and performing with others, everywhere from small cafes and bars through to theatres, clubs, festivals and the 02 Arena in London.
Teaching Info
If you're frustrated with your guitar playing, fed up with trying to teach yourself from the internet, or making slow progress with your current teacher, we can help! Our structured, proven approach means that you get faster results, build strong foundations and develop the skills to play the music you love. Whether you're a beginner, or have been playing for some time, you'll save time, money and frustration.
What sets us apart? It's very simple – we care. This underlies everything we do at the School. We care about you as a student. We care about your progress, and we have the skills, experience and desire to help you get to where you want to be as a guitarist, whether that be simply strumming some chords at home, or playing on the big stages.
We take our responsibility to you very seriously. A huge amount of care and thought goes into refining and improving everything we do for you as a student, to make your experience here as enjoyable and effective as possible. And the work continues behind-the-scenes when you leave the classroom, so that we can offer you unmatched opportunities, experiences and value, above and beyond your regular lesson/s.
We pride ourselves on the care and attention that goes into preparing and teaching every lesson. (We don't just ask when you walk in the door, "What song do you want to learn today?", and then print out TAB from the internet – sadly, this is very common amongst guitar "teachers"!)
Our focus on guitar makes us Auckland's only specialist guitar school. This allows us to direct our energy and expertise into being the best at what we do. (Visit the testimonials page for proof of this).
All teachers at the School are extensively trained in-house, to ensure that the highest quality and consistency of teaching is maintained and that you get the results you want from your lessons. We work together from a unique core curriculum, so that you build strong foundations and develop the skills to play the music you love.
This is what some students recently said about lessons at Auckland Guitar School:
"I joined Auckland Guitar School last year after my 12 yr old son inspired me. He had joined Auckland Guitar School a few weeks prior, and I had this vision that we could play together! And now we do!! Even better my 8 year old son has now joined and has the bug too. Dylan has proven to be a fantastic teacher who clearly has an extremely knowledgeable background and skill in this wonderful instrument. The classes are so much fun, you learn an incredible amount in these lessons, and Dylan and Thomas's style of teaching is suited to all walks of life! You play the latest songs on the charts, along with the good old time classics we all know. It's addictive, all three of us never want to miss a class. One thing I notice is my boys and I leave our classes with the biggest smiles on our faces! Love it!" (Kira Chilcott)
"As an adult student, I'd found my previous teachers always assumed that because you're an adult, you don't want to be bothered by theory, and you just want to get on and play. In Dylan's classes, they're a really good mix of theory, technique and practical, and there's no doubt that learning theory really does help your playing and gives you the ability to be able to improvise and play your own solos on the fly over chord progressions. Previously, I wouldn't have had a clue about how to play a solo over a chord progression or even how to start. Dylan is by far the best guitar teacher I've come across, and a hell of a nice guy. He's a fantastic player himself, is very well qualified in everything guitar/music, and is very personable. I would highly recommend Dylan to anyone wanting to learn or further their guitar skills. He's certainly done wonders for my playing." (Mark Mallinger)
Visit http://www.aucklandguitarschool.co.nz – book your FREE Evaluation session and find out how fast you could be learning.