Wellington

Cello Lessons, Clarinet Lessons, Drum Lessons, Electric Bass Lessons, Flute Lessons, Guitar Lessons, Piano Lessons, Recorder Lessons, Saxophone Lessons, Singing Lessons, Ukulele Lessons, Violin Lessons | Theory Lessons, Music And Movement For Under Fives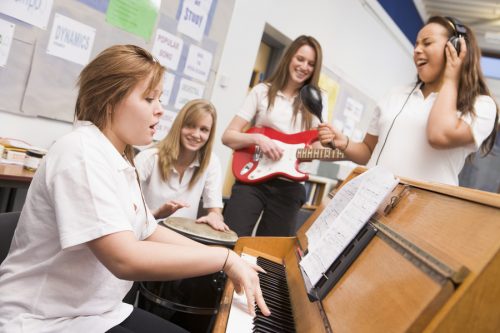 Qualifications: Professional musicians who are great at both teaching and music.
Pricing: $6.90 upwards. Refer to the website for more info: http://www.encoreschoolofmusic.co.nz/group-music-classes.html
Styles: All musical genres: Contemporary, classical, opera, jazz, folk, etc
Suitability: All Ages (1-99 years old) and All Stages: Beginner, Intermediate and Advanced
Bio
Encore! School of Music is a vibrant and dynamic music school offering lessons in various Wellington locations – Brooklyn, Mt Victoria, Johnsonville and Churton Park.
Let our fantastic team help you achieve your musical goals whatever they may be!
We have a wide variety of individual and group music classes for ALL AGES both kids and adults (from 1 to 99 years old!)
Bring us your kids from 1 year old and we'll cultivate a love of music in them. When they are old enough to pick up an instrument, our excellent teachers can help tutor them to an advanced level.
Our classes include toddler and pre-schooler music, singing, piano, keyboard, drums, guitar, bass guitar, ukulele, saxophone, clarinet, flute, recorder and music theory.
We accept music students of all levels: beginners, intermediate and advanced.
You'll have the opportunity to perform in the musical events we hold regularly or to jam in a band. You also have the opportunity to take the globally recognised Trinity music exams and achieve formal music qualifications if you like.
"My son has been with Encore for nearly 4 years now and during that time his piano skills have excelled. The teachers are well trained, patient and make lessons enjoyable. I have also had the pleasure of using their expertise when I decided to try my hand at playing the Saxophone again. I also did Music Theory and passed my exam with flying colours.
Encore are flexible with lesson times and you can do has little or as much as you wish with no pressure. They offer a wide range of instruments to learn and even give you the option of playing with a band. There is also the Christmas concert to join in with and gain valuable experience if you wish. I would certainly recommend the Encore Team to anyone."
Marie Stuckey, parent
Find out why students LOVE their music lessons with Encore!:
http://www.encoreschoolofmusic.co.nz/why-encore-is-the-best-place-to-learn-music.html
Teaching Info
You will LOVE your music lessons with us! Our teachers are not just great musicians – they are great communicators with a great personality! In other words, they are great teachers! We have a rigorous interview process to carefully select our music teachers. Through the many interviews we conduct each year, we have seen many great musicians with good musical qualifications who cannot teach. We take proper care to make sure that we pick the best music teachers for you. This is our commitment to our students. After all, you are committing your time and money and we want to help you make it count!
Don't just take it from us, hear what one of our students have to say:
"The past few years at Encore have definitely been memorable, and easily some of the most valuable time and money I've ever spent, as the school has really helped me develop as a musician and that's something I'll always be thankful for.
Thanks to everyone at the school for being supportive and really pushing me to develop. I'll definitely still be recommending you to other people for years to come."
Carl Non, former student who relocated to Auckland
For more student reviews go to: http://www.encoreschoolofmusic.co.nz/student-references.html