Wellington

Guitar Lessons | Artist development, Ensemble Coaching, Song Writing Workshops, Theory Lessons, Skype Lessons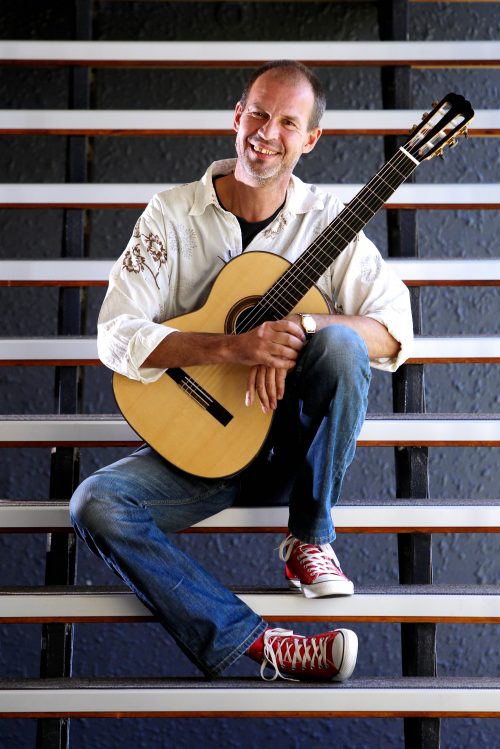 Qualifications: BMusEd Hons(Luebeck), MMus in Performance (Auckland)
Pricing: $40 per half hour, $70 per hour
Styles: Classical guitar, electric and acoustic guitar, improvisation, finger-style. Skype lessons available
Suitability: All ages and levels
Bio
Gunter Herbig was born in Brazil and grew up in Portugal and Germany. Influenced by such different cultures and aesthetic languages, he has developed a highly personal, charismatic, and expressive style of playing and performance. The balance of Brazilian sensuousness, intense Portuguese passion and German intellect and finesse is the hallmark of his playing. Since moving to New Zealand in 1989 he has made numerous national concert tours and has a busy performance schedule which has taken him to South America, Central America, and Europe, where he appears as a soloist and chamber musician in concerts and festivals. He has performed on several live broadcasts on television and radio in New Zealand and Mexico and has recorded for a number of film scores and television documentaries.
He served as the Head of Classical Guitar and Chamber Music at the New Zealand School of Music in Wellington and taught guitar performance, chamber music, pedagogy and repertoire studies at the School of Music at Auckland University for 25 years.
Teaching Info
Guitar lessons from the country's foremost guitar teacher with 30 years of experience at all levels.
Lessons are one on one in my house in Hataitai in Wellington or via Skype.
Internationally acclaimed concert guitarist Gunter Herbig has taught at all major university music departments in New Zealand and was invited to teach masterclasses at universities in Argentina, Mexico and Germany. Gunter was Head of Guitar and Chamber Music at the New Zealand School of Music until January 2008 and is now lecturer in guitar performance at Auckland University, Gunter also teaches freelance in his private studio in Hataitai and invites guitarists of all levels to study – the only prerequisite being enthusiasm!
NCEA performance
My NCEA performance students have consistently achieved excellence in their NCEA assessments. I am well versed with the curriculum requirements and work closely with their school's music departments.
Go all the way!
Former classical guitar students include:
Bruce Paine (internationally renowned guitarist and guitar composer)
John Couch (multiple international guitar competition winner)
Dr. Jane Curry (international guitar competition winner and now Head of Guitar Studies at the New Zealand School of Music)
Tim Watanabe (NZ Guitar Quartet)
Listen to Gunter's bestselling CD "Hauturu – Where the Winds Rest" online at
http://www.emusic.com/label/ode-records-Musicadium-MP3-Download/202088.html
In May 2009, Naxos, the world's largest classical music label released Gunter's second CD "Prospero Dreaming – New Zealand Guitar Music by Douglas Lilburn and David Farquhar" (Naxos 8.572185) which received a 5-star review from the NZ Herald.
In June 2017, Naxos will release "Dream Weaving – New Zealand Guitar Music Volume 2" (Naxos 8.573765).
Critics' voices:
(Ulrich Hermann, The New Listener), October 2015:
"I haven't experienced as convincing a classical guitarist in a long time."
(Hans Hofer, Coburger Tageblatt), January 2006:
"(Gunter Herbig) is an absolute master of his metier; he performed with dreamlike secure virtuosity, from breathed harmonics to fully realised orchestral flights of an entirely explored dynamic scale"
Ricardo from LaGuitare.com (France), November 2007:
"His playing is incredible, how can you communicate such power with an instrument just made of wood and nylon strings?
…Fabulous, totally and extraordinarily fabulous."
William Dart, NZ Herald, about "Prospero Dreaming":
"Gunter Herbig is one of our finest guitarists… The essential character of much of the music on this CD comes from its sounding as if it might have been improvised on the spot. That Herbig has conveyed this impression, with no sacrifice of tonal beauty or structural logic, is a mark of his artistry." (Five stars)
Students' comments:
My son is privileged to be learning the guitar from a gifted teaching and performing professional. We lived in Europe for many years, and when we came back I didn't expect for my son to have access to a music teacher operating at that level. Thank you Gunter!
Gunter taught our teenage daughter classical guitar. With his tuition she achieved high grades in NCEA 2 & 3 performance music without taking the subject at school. The music she plays is wonderful. Gunter came highly recommended (by another music teacher) and we would pass on our recommendations to anyone.