Christchurch

Guitar Lessons | Artist development, Aural Lessons, Ensemble Coaching, Theory Lessons, Composition Lessons, Jazz Improvisation Lessons, NCEA Music Tutoring, Skype Lessons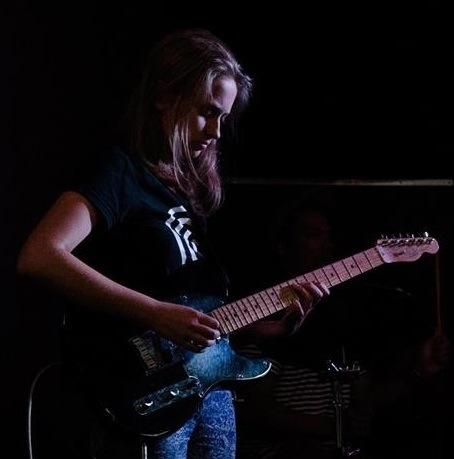 Qualifications: BMus (Hons)
Pricing: $60 per hour, $30 per half hour
Styles: Pop, Rock, Jazz, Fingerstyle, Folk, Latin, Blues
Suitability: All ages, beginner to advanced
Bio
Heather is a qualified musician (BMusHons) working as a professional teacher, performer and composer in Christchurch, New Zealand. She works as a performer in numerous bands including various jazz ensembles, original and cover pop music groups, Celtic and folk music ensembles as well as playing solo guitar concerts and gigs. Having been taught by some of New Zealand's finest guitarists including, Graham Wardrop, Harry Harrison, Bob Heinz, Andy Genge and Dixon Nacey, as well as international guitarists Gilad Hekselman and Jesse van Ruller, Heather has an excellent knowledge of many guitar styles and techniques.
While at Secondary School, Heather successfully completed NCEA Music up to Level 3 (year 13), with performance up to NCEA Level 5. She is familiar with the current NCEA Music Curriculum in Secondary School education and is equip to give advice and tutoring in this area.
Heather has 4 years of teaching experience including private teaching, itinerant teaching at high schools and a contract with the Christchurch School of Music. She currently conducts her teaching from a studio at The Piano Centre for Music and the Arts in Central Christchurch.
Teaching Info
Heather's teaching can offer the following services:
– open and bar chords
– jazz 4 part, 5 part and 6 part chords
– chord substitutions and reharmonisation
– scales
– playing melodies on the guitar (with and without chords underneath)
– right and left hand technique (fingerstyle, rhythm and picking)
– improvisation and ear training
– music theory, music notation and tablature
– guitar as an accompanying instrument (for vocalists, saxophones etc.)
– solo guitar performance, alternating thumb and walking bass line techniques