Christchurch

Drum Lessons | Ensemble Coaching, Theory Lessons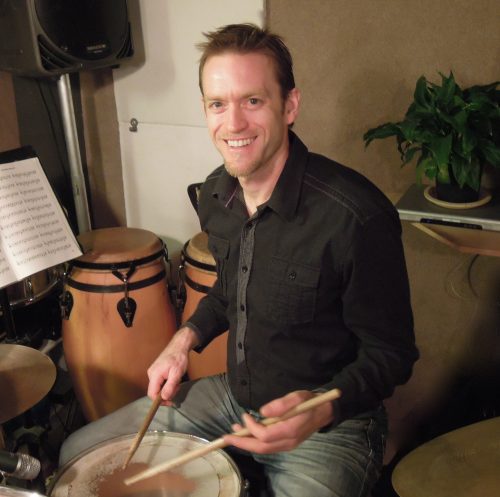 Qualifications: Dip Tchg (NZGSE), Adv Dip Executant Music (Wgtn Massey University -Perf. Jazz,) Dip Jazz Studies (CPIT Chch)
Pricing: $30 - Half hour
Styles: Rock, Funk, Jazz, Afro Cuban/Latin (Hand percussion & kit),
Suitability: All ages
Bio
Matt has been studying, playing and teaching drums for twenty years plus. He graduated from Wellington Jazz school, ( Masssey University 1998) in performance jazz drumming; studying under Roger Cellars and Lance Phillip.
Prior he completed a DIp. Jazz at Chch CPIT studying under Ted Megar.
After traveling abroad playing drums in Hotel resident bands full time in Asia for a few years, and teaching drums and guitar at the' Regents International School' (Thailand) for two years, Matt returned to Christchurch to do a post graduate teaching Diploma At NZGSE. He currently is working at Medbury, St Mark's, and Selwyn House schools, as a full time itinerant music teacher (teaching drums and guitar)
Matt enjoys recording projects, live playing, and is currently studying Afro Cuban percussion with Doug Brush at ChCh CPIT.
Teaching Info
There are many different ways to teach. To choose the right way for any student a teacher needs to be constantly monitoring progress to see if learning is really taking place. Students will be applying rudiments to songs that are achievable and progressive, to enjoy success and achieve their potential.
– Reading music, rudiments, popular song, beats, coordination, soloing, recording/writing, tuning the kit.
– Trinity College London syllabus- Grades 1 – 8 ' Rock & Pop Drums' -(exams optional)
– I have a private sound proof studio with two drum kits (left or right handed set up), recording equipment and play along facilities.