Wellington

Keyboard Lessons, Piano Lessons | Artist development, Aural Lessons, Ensemble Coaching, Theory Lessons, Composition Lessons, Jazz Improvisation Lessons, NCEA Music Tutoring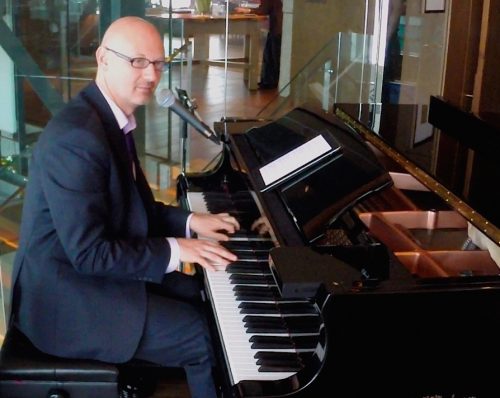 Qualifications: BMus. (Jazz Piano); Adv. Dip Jazz; Dip.Teach. (Sec. Music, Perf Arts); Dip. ABRSM; BSc, IRMTNZ.
Pricing: Beginners/Intermediate Piano/Keyboard: $30-35 1/2 Hr (Discount for 10 lessons). Advanced Piano & Jazz: $75/Hr - (Discount for 10 lessons). Ask about Concessions for Groups & Mobile lessons. Mt Cook Wellington
Styles: ALL GENRES! Classical & Contemporary, Popular. Specialist in Jazz, Blues & Popular Piano/Theory. Creative Music & Improvisation Teaching. NCEA Tutoring
Suitability: Any Age, Any Level, Any Style! Children & Adults Welcome! All Levels: Beginner Keyboard & Piano to Advanced, NCEA.
Bio
Kia Ora! Welcome!                                          
Returning to Wellington in 2015, after 12 years international Jazz Piano & Vocal performance career; – I decided to resume my earlier teaching career of 9 years from 1997 – 2003 – where I gained extensive experience & fulfillment in music education.                       
Based in Mt Cook, Wellington; in 2016; I focused on music education for all ages with specializations in piano/keyboard, jazz & popular music. I completed the Secondary Teachers Refresher Programme, – to re-familiarise with current NCEA curriculum, & the diverse needs of today's students. (Provisional Registration # 205899).  Additionally in 2016, I taught Itinerant piano in Secondary Colleges, "Saturday classes" at Wellington Music Center. As well Adult Education classes, & developed my own private teaching practice & music programme.   (Referees available on request). Ph:  0212056473 pjbosman@hotmail.com                                     For more details please see: www.pieterbosmusic.co.nz
FUN FUN FUN!
I believe all music lessons should be FUN! & serve the individual needs of each student. Be it learning to play a few songs of choice, or follow a long-term path understanding melody, harmony and rhythm;  – I  endeavour to encourage students to direct their own learning, style and repertoire – along with foster longterm habits and skills that encourage the student to further creative musical enquiry.
It is my sincere hope to pass on some of my teaching & performance skills – to students of all ages & abilities in the Wellington community. I always like to put extra effort in to cater for individual needs of each student so they can continue to develop musically and direct their own musical journey.  My studio is  in Mt Cook, Wellington, though also also offer mobile teaching.  I sincerely hope to hear from you to discuss your musical requirements!   Ph: 0212056473    www.pieterbosmusic.co.nz
BACKGROUND AND QUALIFICATIONS:
Pieter started learning piano at 7yrs – studying classical – Trinity College, to Grade 7 – before commencing Jazz at 17.
1999: Graduated with a B.Mus. (Jazz Piano) & Dip. Teaching in 2000.
2000: Awarded a scholarship to London, – to study Jazz teaching and performance techniques with the ABRSM & attained ABRSM Dip. Jazz Teaching.
2016:  Completed the Secondary Teachers Refresher Certificate. (Teacher Provisional Registration # 205899).
Member of IRMTNZ
Provisionally registered member of NZ teachers council. (#205899)
1995:  B.Sc  (Psychology, Physiology).
TEACHING EXPERIENCE:                      
From 1996 to 2004 – Pieter built a strong reputation as a successful Piano teacher in the Wellington region. Teaching Itinerant music at over 16 schools; – Pieter taught Piano & Keyboard; & specialist Jazz Education; – to individuals & groups of all ages & abilities. Pieter is equally skilled and passionate at teaching beginners keyboards as he is for his specialty of Jazz Piano, and advanced theory, improvisation and teaching band "combos". As a trained Secondary Teacher he is also able to teach NCEA.
MUSIC/PIANO TAUGHT AT FOLLOWING  SCHOOLS: (1996-2004)(References available on request):
Children/Beginners: Technics Music Academy, Raroa Music School, Hutt Intermediate Keyboard, Island Bay Music School, Wellesley Primary Collegiate, Many Private Students.
Secondary Schools: Scots, Onlsow, Naenae, Bishop Viard, Porirua, Sacred Heart, Rongotai, St Patricks, Privately.
Tertiary:  National High Schools Jazz Workshop  2000, 2001, 2002, 2008, 2011.  Prepared many private Jazz students for successful entrance to the Massey University from 1999-2003. In 2008 he briefly taught Jazz combos and latin ensemble at Massey University. 2016 Wellington High School – Adult Community Education.
PERFORMANCE EXPERIENCE            
Since 1998 Pieter has worked extensively as pianist and keyboardist in both bigbands/large ensembles – as well as leading his own trios/quartets. This, along with his strong technique and knowledge of theory and improvisation; – has enabled him to develop a unique creative performance style. Pieter's versatility and skill enables him to therefore teach all styles of popular contemporary music: Popular, Rock n Roll to Jazz, or Blues/Funk, to Easy Listening and also Classical.
INTERNATIONAL EXPERIENCE:
International experience includes long residencies with Hyatt, Sheraton and Shilla Hotels in South Korea, Argentina, & Japan. From 2011 – 2014 Pieter performed in South Korea developing his unique Piano & Vocal Entertainer act. (From Sinatra/Buble – Jazz Standards & "Golden Oldies" – to present day artists – Elton John, Billy Joel, Sting, Maroon 5, U2, Jason Mraz – to name a few!). In 2015 he performed with 6 Star Line – Regent Cruises; as well as performing in many Big Bands, Jazz Trios, & as Cocktail Pianist on various cruiselines & in Europe from 2003 – 2010.
GOOD  TO  BE  HOME!
I am excited to be back living in Wellington & reconnected with its creative music community. I am also eager to continue to build my specialist teaching practice in 2017 – sharing some of the knowledge & skills I have in Piano, Keyboard and in Jazz Education.
Ph: 0212056473   pjbosman@hotmail.com   www.pieterbosmusic.co.nz
Teaching Info
FUN FUN FUN!
I believe all music lessons should be FUN! & serve the individual needs of the student. Be it learning to play a few songs of choice, or follow a long-term path;  – I  encourage students to determine their own learning path, style and repertoire – along with foster good habits and skills that encourage the student to further enquiry.
Beginners & Children of course require a little more guidance and direction. My individual piano or group keyboard classes are interactive & diverse. Children as young as 7 can learn how to develop good reading & listening skills & musicianship – fostering a lifetime of music enjoyment.      I believe the key to teaching music to a child is loads of enthusiasm and fun energy!
In all lessons regardless of age & ability, each student will learn some fundamental technical aspects, as well as theoretical principles (often based on classical principals) – necessary for musical development along with their repertoire. Eartraining, Sight Reading & Musicianship is also incorporated.
Specialty Jazz, Blues and Modern lessons – focus on differences between styles, history and more advanced concepts of harmony, theory, melody,& rythym. You will be able to compose & improvise simple tunes, ideas, songs & will learn how to follow basic chord/melody chart – and how to play this in an approriate style of music. These classes are often targeted at those with some understanding of piano or toward young adults/adults rather little ones as it is predominantly concept based – empowering these students with tools to self direct their learning after a term or two!
It is completely up to you!  How youd like your lessons! We will make a plan of learning outcomes and skill sets to learn – for the term, – after our first "discounted" introductory lesson!  I also offer the following:
1: Jazz/Modern Music Course.                                                                  (10 week Course – where you learn to improvise and play in a band! Chords, melody, harmony – some piano skill preferable though not essential – more applicable for ages 16 yrs onwards – Adults)
2: Adult group lessons (max 3 persons).
3: Childrens group beginner keyboard lessons. (max 3 persons).
4: Mobile Lessons: Yes I can come to you!
5: NCEA Tutoring Available – (Secondary Music Teacher)
PLEASE CONTACT ME TO TAILOR-MAKE YOUR LESSONS:
Please contact me to discuss your requirements. Happy to make a tailor- made teaching plan for you or your child. First Lesson discounted with mention of nzmusicteachers website, – then if you wish book 10 also discounted!    I look forward to hearing from you!  Pieter Bos.
Ph: 0212056473    pjbosman@hotmail.com    www.pieterbosmusic.co.nz